Operational assignment
Vlevico is the meat processing unit of the Colruyt Group. It is located in the Halle business park next to the Barry Callebaut chocolate factory. The two companies together commissioned a joint water treatment plant in 2000 and outsourced its running. In 2010 they put the operating contract back on the market. Aquaplus convinced them with a competitive offer.
Importantly, the agreement emphasized not only good effluent results, but also the optimization of operational costs.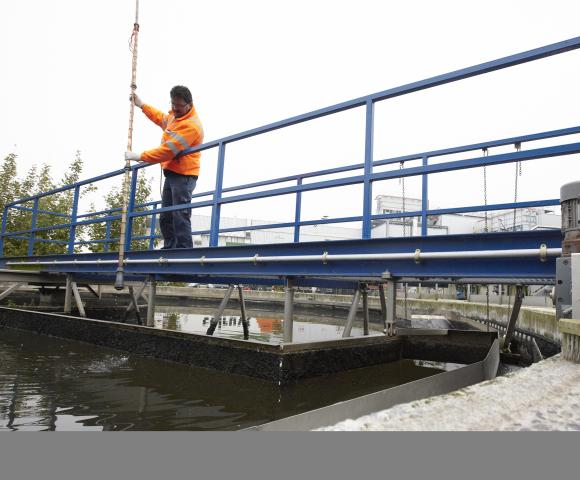 The added value of Aquaplus
With Colruyt Group and Barry Callebaut, Aquaplus devised a special cooperation model in which the realized financial benefits accrue not only to Aquaplus as the operator, but are divided between the three parties. The basis for this is a clear commitment for financial results. In this way, Aquaplus' intention to optimize gets an added financial incentive, that also benefits our clients.
The challenge of typical peak loads
Aquaplus quickly familiarized itself with the treatment plant and its operational and maintenance needs. Every installation is different and a biological sludge system behaves differently throughout the year. The typical peak loads in periods of higher production are key factors for any industrial waste water treatment plant. With this under control, we could focus all our attention to optimizing the operational costs.
The experienced team of Aquaplus operators has always achieved good treatment results on the treatment of Vlevico and Barry Callebaut waste water.
A clean result
The result was striking. After the first year of operation, Aquaplus had reduced the specific energy consumption of the treatment process by no less than 25 percent. How did we do that? The two most striking improvements were adjusting blower frequency and smarter control of the aerated sludge mineralization.
We also optimized the process settings. After careful process-technological inspection, we were then able to lower the limit values for oxygen input. Finally, we also reduced the use of chemicals, eliminating a number of products, like urea and bleach that had been used before.
Aquaplus put a lot of effort into maintaining this quality at the lowest possible cost and we are of course very satisfied with that.
Sustainable cooperation
Not only is our water treatment sustainable. This is also true for the way we work with our clients. "With us, Aquaplus is playing to the full its role as water treatment specialist. This brings only benefits. The operating team managing our water treatment has a closer view than we ourselves. Regular reporting keeps us up-to-date and every problem is immediately notified and addressed", De Meester concludes.