Building and renovating
Total Belgium wanted to optimize the water treatment plants at its Belgian motorway service stations. Part of the existing infrastructure was badly outdated. The cooperation began with an audit of the Spy filling station at the end of 2013. There Aquaplus examined the optimization options and produced a scenario analysis.
After a positive evaluation, renovation work started in 2014. The Total sites along the E17 at Nazareth and Kruishoutem were completely renovated and equipped with two new waste water treatment plants.
Today, Aquaplus manages 27 waste water treatment plants for Total Belgium along all major Belgian motorways. Aquaplus built 10 of those 27 water treatment installations, and renovated another 13.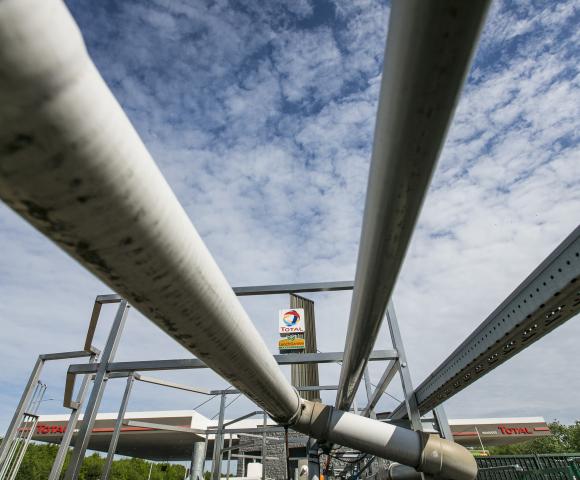 SEQSCI criteria
These contracts were awarded to Aquaplus on the basis of Total Belgium's strict SEQSCI criteria. SEQSCI stands for Safety, Environment, Quality, Service, Cost and Innovation. The bidder offering the best combination of these six elements gets the contract. Further proof of the broad view that Aquaplus applies in carrying out its assignments.
Cooperation pays off
Aquaplus undertook the construction and renovation in a partnership with BelleAqua, a manufacturer of and contractor for small-scale water treatment plants. Together with Aquaplus, BelleAqua studied the process technology of the water treatment plants on the basis of flow rates, waste load and the discharge standards written into the environmental permit.
In consultation with Total, we opted for an active sludge system with a sedimentation tank. With its flexible control system, this is the best technology for meeting the effluent standards, including those for phosphorus and nitrite.
Sonja Van Hooydonck and Jean-Pierre Depauw of BelleAqua are extremely satisfied with the course of events. "We like to be involved from the outset so as to be able to select the best technologies at the most competitive price possible. We followed the prior investigation from A to Z. What space is available, which peak flows are feasible, which technologies do we use? This last element we examine with specialized process technologists. We then deliver and install, after which Aquaplus takes over the operation."
The Total projects perfectly illustrate how Aquaplus distinguishes itself from other players in the market.
An influent buffer reduces peak loads. The combination of good design, preventive maintenance and proper operational monitoring by experienced operators adds up to reliable operation.