Designing your treatment plant
You need a new treatment plant, or want to replace part of your existing one? After discussing your company's needs, we convert your wishes into a conceptual design. Once we have agreed on this, we then proceed to a detailed design.
We listen to you
We develop the concept based on the best technology for your company. Do you yourself prefer another workable technology? No problem. Our experts have the know-how and experience to incorporate this.
The basic design
Since decisive choices are made at this stage, we do the design ourselves. For this the Aquaplus/Aquafin tandem has a whole range of tools available to it, including analyses and lab tests by our accredited lab, measuring equipment, pilot installations, proprietary dimensioning software and dynamic modelling. All this together leads to a well thought-through design, tailored to your company.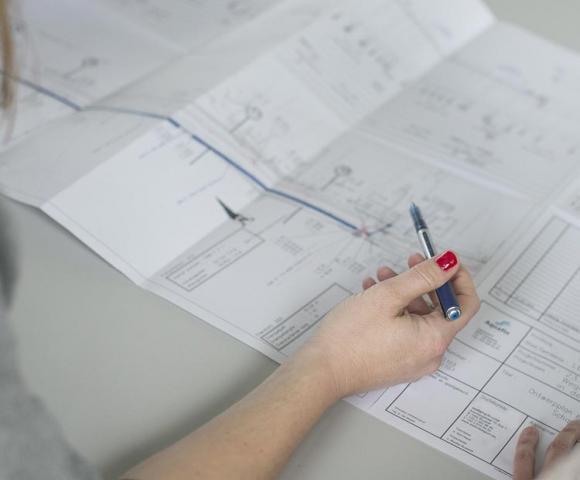 The sewer network
Aquafin, the parent company of Aquaplus, has developed different approaches to achieve optimal hydraulic solutions and to minimize problems like flooding and ecological impact on watercourses.
Our AquaGIS module comes with a data management system that manages and visualizes the data in a suitable environment, using compatible formats.
A fully integrated Hydronaut procedure has been developed for implementing a hydraulic calculation module (such as Infoworks). This procedure contains all the steps to be followed in sewer system modelling exercises.
Onze AquaGIS-module voorziet een datamanagementsysteem dat ervoor zorgt dat de data beheerd en gevisualiseerd wordt in een geschikte omgeving, door gebruik te maken van compatibele formats.
Voor de implementatie van een hydraulische rekenmodule (zoals Infoworks) is een volledig geïntegreerde Hydronaut procedure ontwikkeld. Deze procedure bevat alle stappen die moeten worden gevolgd bij modelleringsoefeningen op rioolstelsels.
The choices made during the basic design stage are converted into a reliable, cost-efficient and maintenance-friendly installation. We look not just at the immediate costs, but also take into account the impact on the intensity and costs of the subsequent maintenance, operational management stability, the lifespan of your installation and the need for later optimization.
We closely follow all new developments in the water treatment field and are also working on innovative applications ourselves. This way we ensure that our designs are and remain future-proof.
Also need a design for your treatment plant?